On the "Finance" tab of the account profile you can get full information on the financial operations of this account for the selected period, find the payment of interest for the chosen wallet, etc. in the table containing the list of financial operations for the chosen wallet.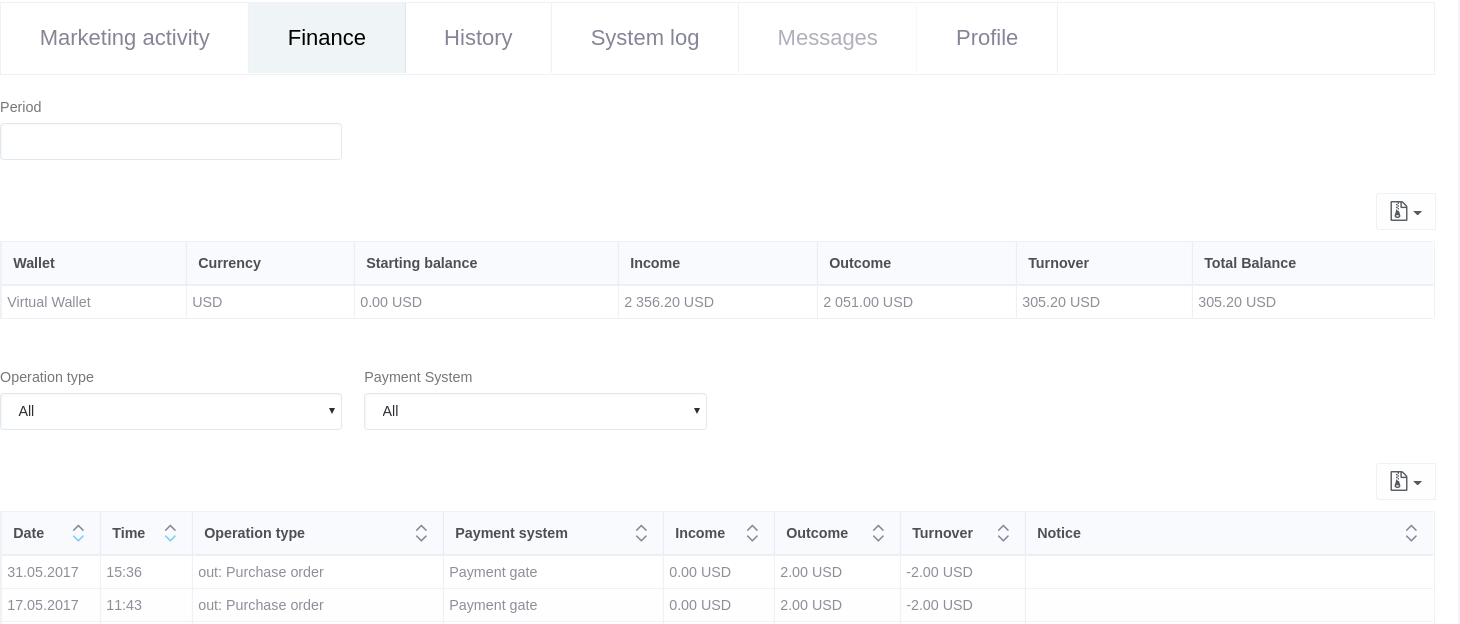 To view the transaction history for a particular wallet, click on the wallet name from the list of available purses in the table below the filter by the time. By default, the first wallet is selected.
For each operation, the table displays the following information:
date and time of the transaction;
operation type, such as: commission payment, transfer between accounts, etc .;
the payment system, with which the operation was performed;
the amount, for which the operation is performed, is displayed depending on the type of transfer: "Income" or "Outcome", the result of the operation is displayed in the "Turnover" column;
notification - a comment to the operation, if any.
To find operations for a certain time period, select the period from the offered options or enter your own in the filter "Period", located under the tabs.
Search operations
To quickly search for the desired operation, a custom filter is available in the section. Filtering can be performed by two criteria:
by operation type: from the offered list select the type of operation, that you want to search. The drop-down list displays all available operations with a direction designation: "in" or "out";
on the payment system: from the offered list, select the payment system, with which the requested operation was performed.
You can enter values in one or more filter fields. For example, you can search only for the type of operation or only for the payment system.
After all the necessary parameters are specified, the application will display a list of the operations you are interested in.
Function panel
In the "Financial History" section you can perform the following actions, such as (the set of available operations depends on the rules set by the administrator):