In the "Marketing Activity" section you can view the marketing activity of all accounts in the context of trees and plans, for current, past and future periods (points accumulated in the current period can be transferred to the future period).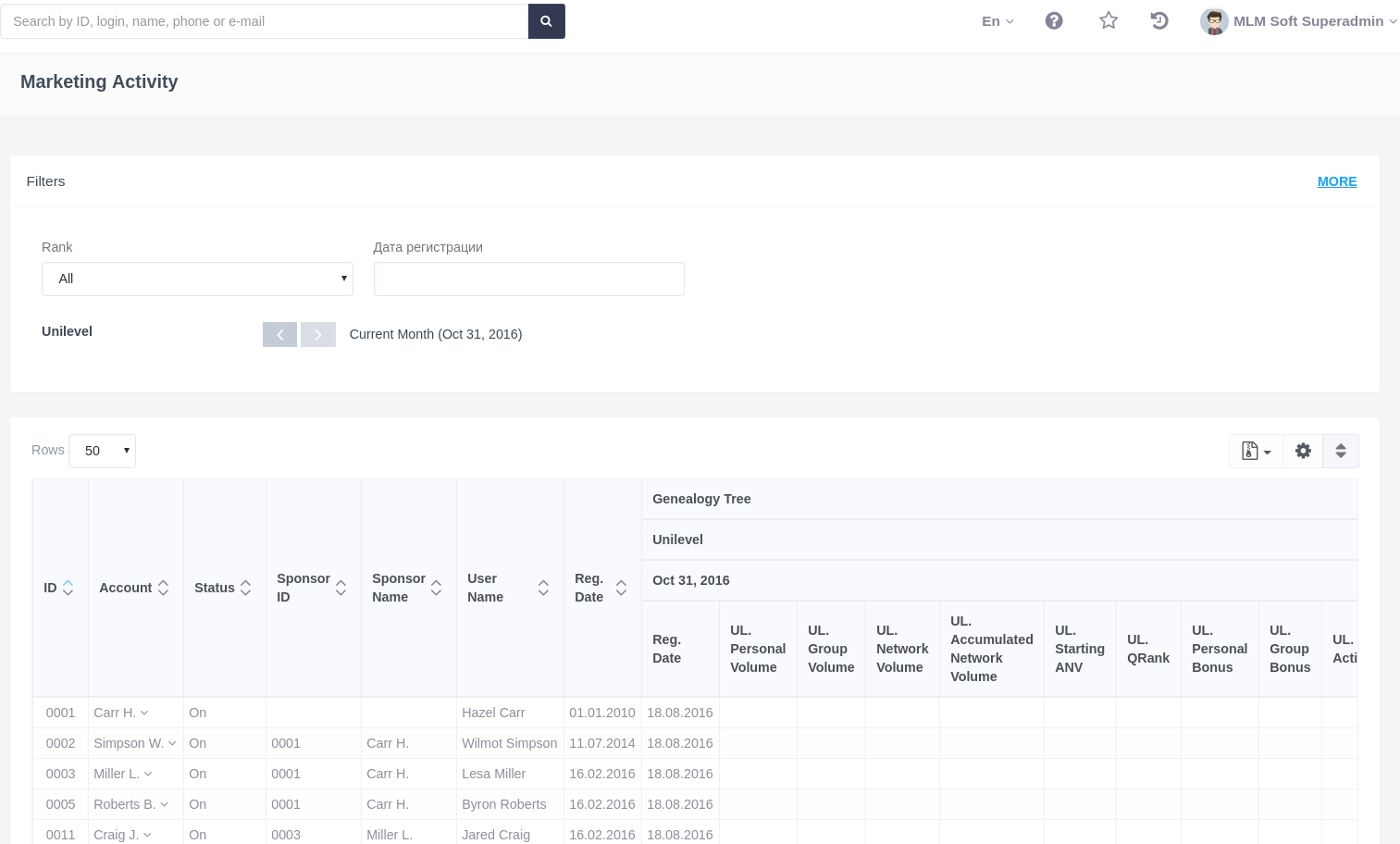 A tree can be configured with several plans. To display a specific plan properties select the plan / plans with a checkmark. At least one plan (any) must be selected.
Each plan has its own list of properties for evaluating the activity (see the section "Compensation plan" / "Plan prperties") and its marketing period, for example, a month or a week. As a rule, the property values are changed by the event within the current period (for example, the current month is October 1 - October 31, 2015).
Switch between the periods of the selected plans by using the arrows.
A system (see section "System filter") and a custom filter (see section "User filter") are available in the section.
Features of the custom filter page "Marketing Activity":
On the "Marketing activity" page in the user filter, the following fields are available:
Rank - select the rank of the account role in the marketing plans from the available list to filter the accounts by rank.
Position date - select a date or a period from the offered options or set your own, to filter accounts by creation date. If you need to see a list of accounts registered on a specific date or period.
If you need to filter by a certain feature, then use the advanced filter. To open the advanced filter, click the "More" link. To the custom filter, you add fields in which you can specify a condition.
The composition of the possible fields for the filter is determined automatically based on all columns of the table, this section. Accordingly, the selected field will be offered a list of conditions: equals or contains.
In the table menu the operation of exporting information to a file is available, and sorting in the columns of the table (see "Working with tables").