The common scheme of Online Office solution based on the integration of MLM Soft and СMS Drupal admin system (OnlineOffice Drupal) as it presented below: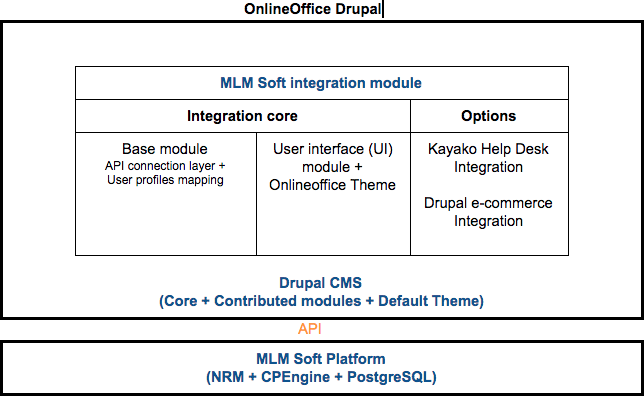 Drupal OnlineOffice provides the functionality user's MLM Soft platform account. The solution itself is a set of configured components and built-in Drupal plugins:
CMS Drupal provides the common basis for user's OnlineOffice and/or the website of the customer.

MLM Soft Integration core + Options are the components of MLM Soft Integration that extend Drupal platform and provide the support of data structure of OnlineOffice, contact with basic CMS plugins and online office setup to definite customer's requirements by creation the separate configurations and screens.
MLM Soft plugins provide one-time registration for all users of MLM platform in registration form of CMS itself as well as one-time authorisation (Drupal authorisation form for MLM users works through the authorisation on MLM Soft). Besides, MLM user's referral link id is displayed in profile section.
In common Drupal OnlineOffice is built on the basis of blocks and pages that are in  "User interface module". 
In preparing the OnlineOffice and/or the website any 3-rd party Drupal plugins can be used as well as program Drupal custom development.