NRM Admin is the main application that administrative users of your company use - company employees in the head office (and branch offices).
Access to the application is determined by the role that was given (see the roles of the administrative user).
Default user
Upon completion of your project, the administrative user will be created in the cloud platform mlm-soft.com by default. The login / password for this user will be the same as the login and password you used when creating the project (see Cloud platform).

This user has the maximum permissions through the Admin role (see Basic roles); under the name of this user, you can create other users of the system (see Creating a new administrative user).
Authorization of administrative users
Authorization of administrative users of the NRM Admin and Configurator applications is by login (the login is an email) and the password issued by the application's administrator when creating the administrative account (see Creating an administrative user).

The authorization form is available on the login page of your project at mlm-soft.com, for example: https://vashe-nazvanie.mlm-soft.com.

On the authorization form, fill in the fields: e-mail / id / login (depending on what is configured as a login, see Settings) and password and click the "Login" button.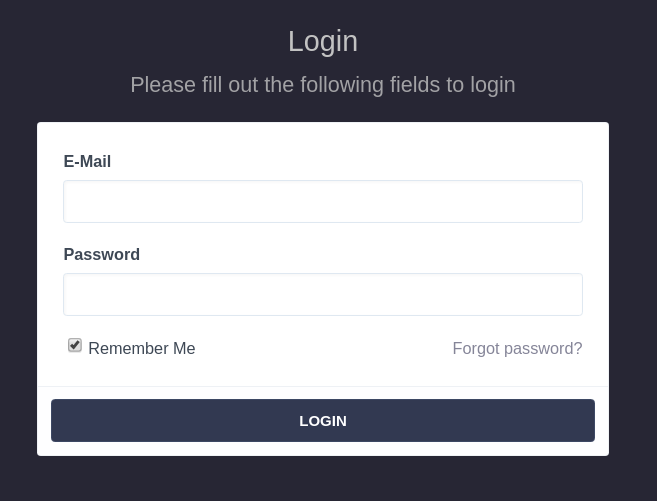 When authorization form is open, it is possible to remember the user if the "Remember me" field is checked.
Password recovery
(Not implemented yet)
If you forget the password given to you by the administrator, then use the password recovery function, with which you can replace the forgotten password with a new one.
To do this, follow these steps:
Click on the link "Forgot password?" at the bottom of the form.
2. In the "Password recovery" form, enter Login / e-mail / ID and click the "Next" button.

3. A letter with a confirmation code (valid for 10 minutes) will be sent to your email.
4. After entering the confirmation code in the form, you will be asked to enter a new password.
5. After specifying a new password, the user goes to the login page and offers re-authorization.