MLM Soft integration plugins allow to implement two-way synchronisation of user's profile in MLM system as well as in Drupal platform itself, that let to have a straight-through all MLM platform user's registration in the registration form of CMS itself and also their straight-through authorisation.
After user's profiles fields mapping setup the properties of fields synchronise: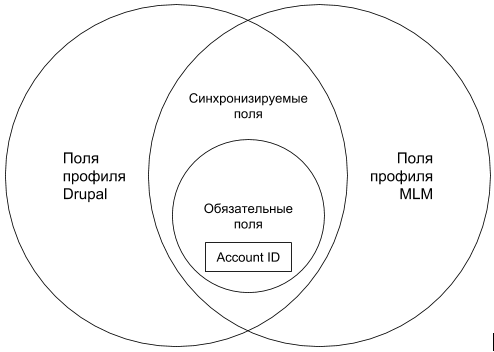 From MLM to Drupal - at the moment of each authorisation in Drupal.
From Drupal to MLM - at the moment of each change saving in user's profile in Drupal. 
Such mapping setup of profile is tuned in Account settings section - on "Home / Configuration / MLM Soft / Account settings" page.
The mapping of most part of profile fields is performed in configuration field "Fields mapping". The whole number of Drupal and MLM profile fields is shown in comments with indication of all its types. Besides fields mapping there is an option to set up view permissions and the profiles' fields editing:
Fields mapping

 

 

field_name

line format: "drupal_field: mlm_field, hidden/readonly"

 For example: 

field_first_name: firstname
field_last_name: lastname
field_birth_date: birth_date
field_phone: phone
field_skype: skype
field_mailing_address: Mailing_address
field_postal_code: Postal/ZIP_code, readonly
Drupal fields: field_first_name(text), field_last_name(text), field_phone(text), field_skype(text), field_mailing_address(text), field_postal_code(text), field_birth_date(date). 
MLM Soft fields: firstname(string)*, lastname(string)*, phone(string), birth_date(date), skype(string), Mailing_address(string), login(string), Postal/ZIP_code(string), gender(string), card_id(string). Asterisks (*) mark mandatory fields.
MLM profile mandatory fields marked with reference(*)
Fields types mapping

Drupal

ID type in Drupal

Types of alias in MLM

Text

text

string

Long text

text_long

txt

Date (ISO format)

date

date
User's country fields mapping is set in special area "Country field mapping". 
Country field mapping

field_country or none

the Drupal user profile field to be mapped to the MLM Soft user profile country field
Current Drupal user's profiles fields (as "country") are indicated in drop down menu. Selected field will be synchronised MLM profile field with  "country_id" synonym.
Also in this section it is possible to indicate additional visibility settings, sponsor name and his activity value:
Country visibility settings



one value is chosen - readonly, allowed, hidden

Language visibility settings

one value is chosen - readonly, allowed, hidden

Sponsor ID field title

Direct referral ID

MLM Soft sponsor ID field title in the user registration form.

SPONSOR ACTIVITY CHECK

Active / Inactive - sponsor validation setup with its indicated value (for example, ranks, activity etc)

Hide tab "Edit" for user profile

Скрыть закладку "Edit" в профиле mlm-пользователя (запрет редактирования профиля).

Hide "Edit"bookmark in MLM user's profile (profile editing restriction)
In case of integration of Online Office with Help Desk the connection/setup of MLM plugin to Kayako system the linking/setup is needed.
Setup of this linking is performed in Kayako API client settings section - on "Home / Configuration / MLM Soft / Kayako API client settings" page.
| | |
| --- | --- |
| API Kayako URL | URL name is set up by MLM Soft Tech Support manager |
| API Kayako auth data (login:pass) | set up by MLM Soft Tech Support manager |
| Kayako Help Center URL | set up by MLM Soft Tech Support manager |