In order to compose a structured data on user's dashboard or in OnlineOffice menu using special widgets as blocks of data. For example user can request and see detailed info on his status, state and size of his network, parameters of compensation plan, wallet balance, group and personal volume. 
Setup and mapping of data blocks is performed in Blocks menu of Structure section on "Home\Structure\Blocks"page: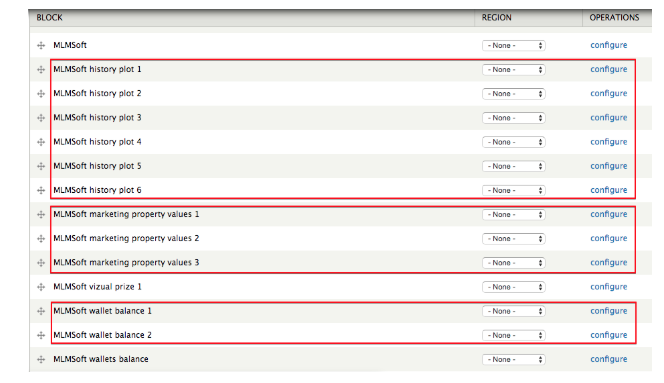 In order to configure you can select an appropriate block of data, set correct values and properties, and to configure its displaying and mapping options in Online Office dashboard.
Now the system supports 3(three) main the most used types of blocks data:
"History Plot" - to enable the display of graphics according to data history.

"Marketing Property Values" - to enable the display of different account values, compensation plan, and the whole network.

"Wallet Balance" - to enable the display the wallets balance

The system also supports 2(two) additional types of data blocks:
- "Vizual Prize" - ranks' metrics 
- "Wallets Balance" - to enable the display the balances of some wallets simultaneously in table form.  
Totally in Online Office It is possible to enable from 1 to 20 widgets for each block's type.
The quantity of widgets is set at the moment of setup of user's interface of UI plugin components and is regulated on "Home / Configuration / MLM Soft / UI settings" в разделе Common page.