For the convenience of working with large volumes of information, the System Filter (SF) works in the application. A system filter can be useful if at a given time you are working with only one particular structure to operate with a smaller amount of data.
Attention! SF is a separate mode of the application, in which the data on most pages (where applicable) are shown only for the selected account and its downline structure.
The system filter - "through filter" - works on all pages of the application, the data will be displayed in a filtered form, until the filter is disabled. As a result, you may not find the data you are interested in if they belong to another distribution structure; this is why the included system filter is highlighted in bright colors.
Suppose, you have a large data set, but from the whole array, you need to look at or highlight data that is relevant to a particular account (for example, selecting records that are specific to the Ivan Ivanov account only).

The system filter allows you to filter data (search by ID, login, name, phone or email) throughout the application.

The system filter is located at the top of the page.

Start typing a name, login, phone, email or ID of the account you are looking for in the search bar. Data can be typed from any location (autocomplete works).
The query function is not case-sensitive, that is, when you enter the query text, it does not matter what letters it was typed: lowercase or uppercase. As you type the text in the list, the names that match the query will be displayed.

By clicking on the "magnifier" icon (at the end of the line), the search results are opened in a separate window.
In the opened form with search results, click on the "Apply filter" link next to the account you are interested in. Also on the "Search Results" form, you can add an account to your favorites - the "Add to favorites" link (see the "Favorites" section).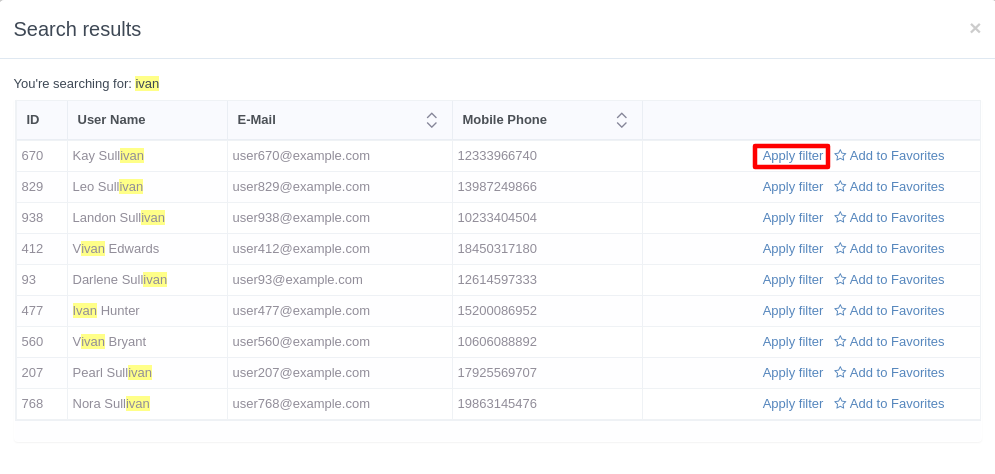 The displayed information on each page of the system will be filtered by the selected value and highlighted with colors.
When selecting, the following colors are used:
lilac - the account you are looking for and the highest account;
pink - upline (higher);
green - frontline (downline), first line;
white / gray - downline, other lines.In the event, that a custom filter is configured, the filter conditions are summarized. For example, if the criteria "Confirm Email = Yes" is set in the user filter, the system filter will display the search for Ivan Ivanov and Email is confirmed.
On the "Tree view" page, only the accounts of the desired account are displayed (top line, first line, bottom line).To re-search, delete the previously entered value, using the "cross" at the end of the search line.