MLMSOFT.com cloud platform architecture characterises by 4 key features:
Accessibility from anywhere (only any web browser required) as its made totally on web.
All in one suite (in one subscription). Easy to start without any investments, risks and expenses.
Safety and scalability: multi instance architecture with a highest IT  security standards. Scalable in real time depending on the growth of your business.
Open API - Integration with any 3rd party: e-commerce, e-payment, messengers, warehousing, etc.
Platform consists of 3 main parts:
Compensation plan engine with API
Compensation plan engine is a core of the platform. It runs all the calculations across the network. All the data is accessible via API.
NRM
NRM (Network Relationship Management) software is a corporate IT solution for your company's management team, founders, and executives. It helps you run your network smoothly.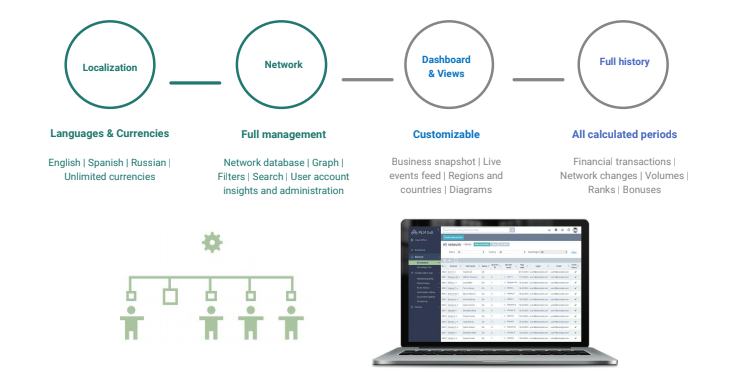 It also has a separate analytical application, to get all important insights and metrics for your network.
Customizable

Online Office 

Online Office for the partners where they can get all the reports, current metrics, downline, wallet statement, as well as register newcomers, request withdrawal, share referral link, have support and more. It is fully customisable to corporate visuals.