Here you can find main steps to integrate your Drupal Commerce online shop with the platform.
Basically you have 2 options:
Use default online shop provided with the platform.
Make you custom online shop and integrate it with the platform.
Default online shop
We can provide default online shop in basic customization package with small setup fee as out-of-the-box configuration. It's already integrated with the platform so you can start with it and develop it in future the way you want.
Default online shop is based on a simple template you can easily customize.
The page consists of various blocks that can be configured with administrative access. For example, in the Content section you can add products, news and image slides. Categories can be added in the section Structure -> Taxonomy. You can also customize the header and footer of the page.
Custom online shop on Drupal 7
For this scenario you should install our MLM Soft Drupal Module to your Drupal 7 based online shop. You can find more info in Drupal Powered Online office section.
After you configure integration with the platform you should setup its options. 
Enrollment settings 
The main function of MLM Soft Drupal Module is to provide seamless integration between the online shop and the platform. 
User authorization is integrated in full, both registration (enrollment) of new users and login of existing users.
When user signs-up to your online shop he or she automatically gets an account in the platform.  You can configure sign-up form of the online shop to get fields you need for each account.
Vice versa, when you create new user in NRM immediately after this he or she can login into the online shop.
In order to synchronize fields between Drupal and the platform you need to configure fields mapping. This system automatically manages to update fields changed in any app (online shop or the platform) to make changes appear in both.
Purchase settings
On each purchase made by a user of the online shop special web hook is triggered. This web hook sends data to MLMSOFT.com Cloud Platform to initiate compensation plan calculation and other system events.
With any of your product displayed in the shop you can send initial plan properties to the platform.
Basically you just need to send PV for the purchase. Sometimes you need to send something more, for example, specific status, which is actual for purchase of starter kit.
When adding or editing a product in the online shop you can add PV and CV extra values.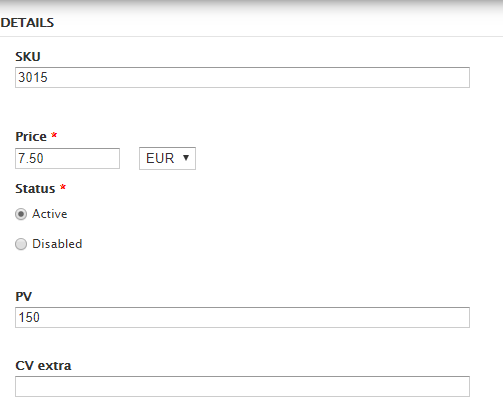 In the PV field you can enter the number of points that should be passed to the user when buying this product. It will be displayed in the Personal Volume column of the NRM part.
Field CV extra is filled in the format "property code:number" (for example, Status:1) for those products that are the starter-kits. Thus, buying this product means assigning the first status.