For convenience, in all the application tables and the "History" and "Favorites" lists, the account name is the link, that opens the account menu.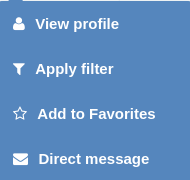 The account menu includes the following items:
View profile - go to the "Account profile" page (see section "Distributor account") of this account.

Apply Filter - installs and applies the "System Filter" (see System Filter) for this account. If the filter is already installed, then the item "Clear filter" is displayed, by depressing the filter action is disabled.

Add to favorites - adds an account to the "Favorites" list. If the account is already in the favorites, then the item "Remove from favorites" is displayed, by clicking the account is deleted from the favorites list.

Direct message - opens a form for personal message (not yet implemented).