The platform has standard settings from launch, including many email templates to send to network users: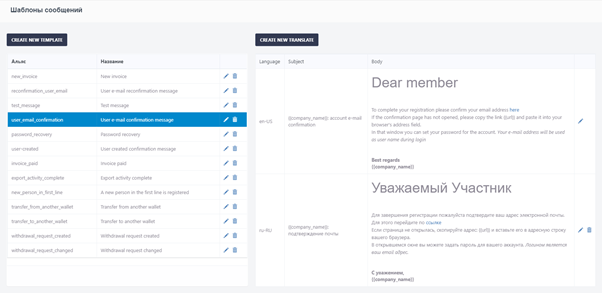 Click on "CREATE NEW TEMPLATE" button to start the new template setup:

Write the name as well as the alias, a constant that will only be used in the code, for this reason the alias must be unique.
Latin alias is supported - both cases, digits, underscores and hyphens.
Then, in the "Subject" line, specify the subject with which the emails of this template will be signed.
The "Body" line is the content of the email that the user will see and must be made with HTML markup conditions.
The subject as well as the content of the email supports the use of the template engine http://websketches.ru/plugins/mustache , which is represented best in the standard New invoice template:
A complete list of tags and their use for adding to the template is specified on the page of the template engine.

For the new template to work correctly, you lastly need to contact the technical support of the project to put it into operation on the code side.