The module is designed to display the product catalog on pages that do not require user authorization to function, in other words, on external pages.
Working with the External catalog module
The module can display the very same elements and is configurable in the same way as the internal catalog and does not depend on the cart module or the page on which it is located.
You can see an example of the configured external catalog below: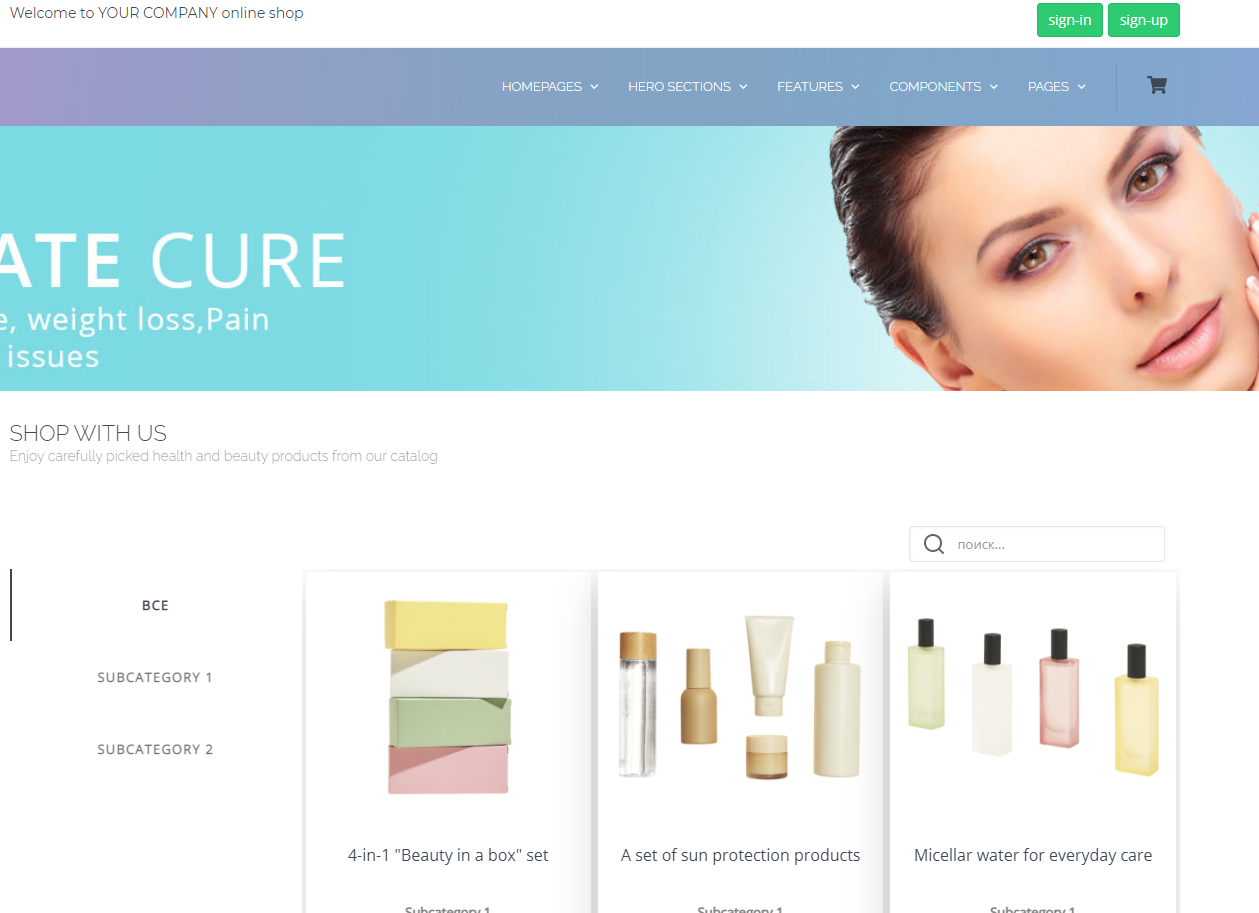 Configuring
In the module settings, you need to specify the wallet, currency, possible payment methods; choose which marketing properties of the product (points, status, SKU) to show in the product card. You can turn off the division into categories. You can also disable the function of partial payment for goods from the bonus virtual wallet.
| | | | |
| --- | --- | --- | --- |
| props | type | default | description |
| hideDeliveryPrice | Boolean | FALSE | If set, delivery price is hidden |
| agreeCheckbox | Boolean | FALSE | If checked then checkbox is enabled |
| commentRequired | Boolean | FALSE | If set, then the comment field is required |
| feedGroupNumber | String | | feed group number |
| deliveryUrl | String | | Specify delivery setting (path to information .txt file) |
| feedUrl | String | | Setting up products to display (specify the path to the .xml file) |
| marketingParams | String | [ ] | Setting up marketing parameters |
| showParams | String | | Setting options to display |
| currency | String | USD | Currency setting |
| showCategory | Boolean | TRUE | If set, the product categories are displayed |
| walletPay | Boolean | FALSE | If set, the payment from the wallet is included |
| walletId | Number | | Setting up a Wallet ID |
| paymentSystems | String | [ ] | Setting up payment systems |
| rGoodTitle | String | | Setting the message header on successful execution |
| rGoodBody | String | {sum} | Setting the text of the message, on successful execution |
| rBadTitle | String | | Setting the message header, in case of unsuccessful execution |
| rBadBody | String | {sum} | Setting the text of the message, on unsuccessful execution |