In the "Catalog" / "Price Lists" section you can view, edit and create new catalog products and adjust their prices.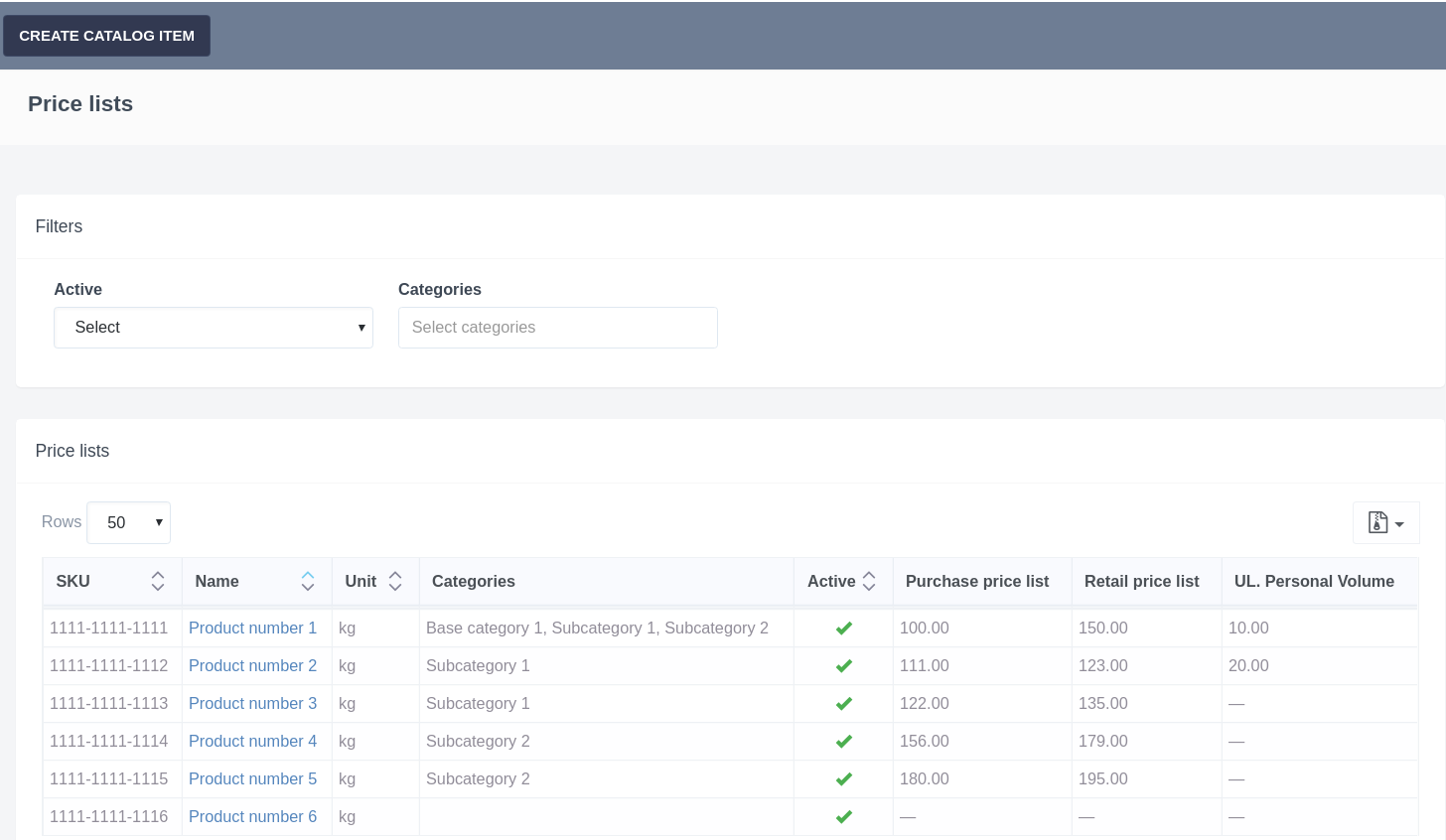 To quickly find the products on the page, a custom filter is used (see section "User filter"). There are filters by activity: "Yes" / "No" and by Category - the selection is available.
Creating catalog item
To create new product (catalog item) follow these steps:


Click  the button "Create catalog item" on the functional panel.
On the page that opens, fill out the form for creating a new product.
Instructions for completing the form:
Parent categories - select the category, in which the product will be created.
SKU - enter the vendor code (storage number) of the created product.
Unit - enter the unit of measure of the products.
Title - enter the title of the product.
Active / Archived - select "Active", if the product is immediately sold, and "Archive", in order for the product to be stored in the system until activated.
Description - description of the product.
Prices - in the block of prices you can specify three types of prices (the number and types of prices can be set in the section "Settings" / "POS system settings"):

Retail price
Special price
Purchase price

Volumes - indicate the number of points for one item.
Assigned status is the status (rank), that will be assigned to the user, when purchasing this product. To display this field, you must enable the option "Is status products allowed" in the "Settings" / "POS system settings" section and, accordingly, the rank property is selected - that property, which will be changed.

3. When the form is completed, click the "Submit" button and the product will be created and displayed at the end of the table.
Catalog item editing
To edit catalog item, click on its name, which is a link to the catalog item editing form. Enter the necessary changes and click the "Submit" button.

Catalog item archiving
To archive the product, follow these steps:
 Click on the name of the catalog item you want to archive.
Mark the "Archive" field, in order for the product to be saved in the system until it is activated.
Click the "Submit" button.