In the "Email settings" section, you can view and edit the settings of your mailbox.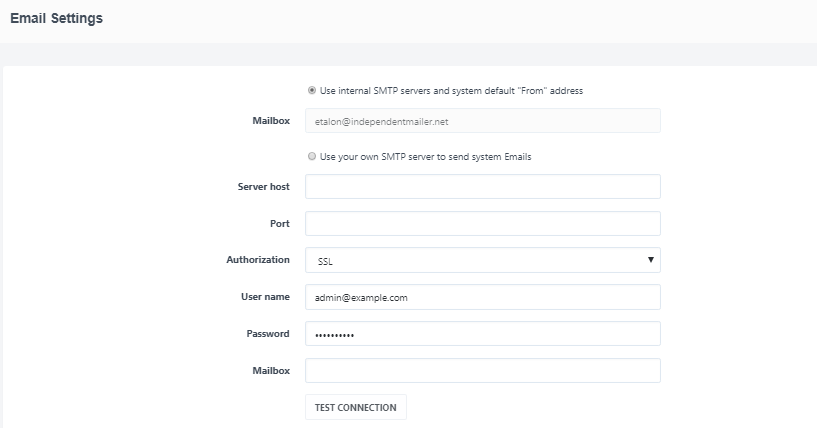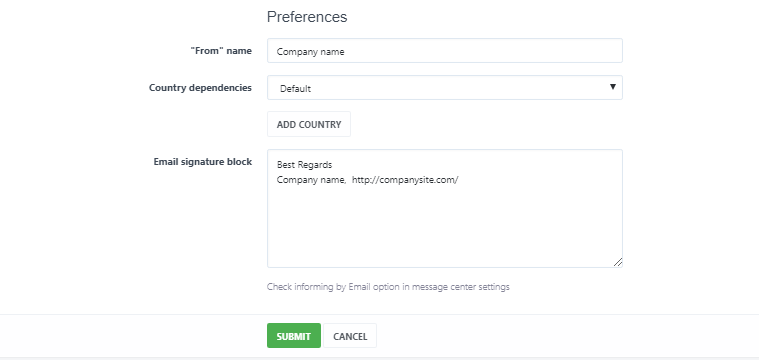 Recommendations for filling out the form:
The application has two options for sending emails, select one:
Use internal SMTP servers and system default "From" address - check the box, if you want to use internal server, predefined in the application.
Use your own SMTP server to send system emails - check the box, if you want to use your server and fill out the following fields: Server host, Port, Authorization, User name, Password, then enter email. address of the user in the Mailbox field and click the "Test connection" button. When you click on the "Test Connection" button, a dialog box appears asking you to enter the e-mail address, to which send the test letter.
Preferences - in this block you can specify contact information, such as:
Company name in the field: "From" name;
Select the country in the "Country dependencies" field, use the "Add Country" button or leave "Default";
enter the desired signature of the letter in the Email signature block. 
 "Check informing by Email option in message center settings"  is a link to the "Events" page, where you can mark the events, for which you want to receive e-mail notifications.
After filling out all fields, click the "Submit" button.